G & J Machining card holders for wagons in Australia
Gary of G & J Machining is the creator of a the most reliable coal and iron ore wagon card holders available in Australia. The tooling and fabrication techniques are all done to the high standards that Gary sets with each tested and inspected for quality assurance.
For orders and enquiries please call Gary on 0417 209 068 or email gandjmach@bigpond.com.au
Benefits of the coal wagon/hopper card holders produced by G & J machining include:
Zinc plated steel to resist corrosion
Two strong springs; one for each arm of the holder
Australian designed, tooled and made
Designed to last for the life of the wagon
Used extensively by many Australian rail carriers
Available in short runs as required for install
Express delivery to anywhere in Australia
Exported to wagon fabricators in China
The G & J Machining card holders can also be used on grain wagons, shipping containers and trucks where an easy to use clamp is required to hold a loading chart or laminated document for delivery instructions.
This is an example of the coal wagon card holder in use on an Aurizon Coal Wagon.

This is an example of the card holder with a maintenance card in it

Rail and mining companies such as Yancoal, BHP Billiton, RioTinto, Peabody Energy, Glencore and Aurizon demand a long life from their coal wagon destination id card holders and those sold by G & J Machining are ideally suited to the conditions in Australia. Each card holder fits in the necessary position at the end of the wagon or hopper deck.
Clients of G & J Machining who currently use the card holders include:
Pacific National
Cement Australia
Gemco
Aurizon
Bradken Rail
If you are one of the people installing these card holders then you already know they are great quality, super reliable and perfectly fit for purpose. Whether you are fabrication coal wagons or repairing wagons, trucks or shipping containers you will find the G & J Machining card holders are easy to bolt on and have adequate spacing around the bolt holes to make drilling and fixing simple.
The coal wagon card holders are sometimes known as:
coal wagon cardholder
wagon label holder
wagon card holders
destination card holder
freight card holders
placecard holders
maintenance card holders
maintenance notice holders
defect notice holders
A grain wagon from Western NSW in Australia will typically have a card that defines specifics of the load, the source and the destination:
source/s of the grain
company
weight
loading date
grade of the gain
destination
Each train load of gain may have multiple sources from destinations on the line as it made its way to the coast for export
Hunter Valley Coal Mining Wagon Card Holders
The Hunter Valley Coal Industry and associated export supply chain is the largest coal export operation in the world. Spread over 250km, the Hunter and Newcastle coalfields produce over 170 million tonnes of saleable coal per year. This is around 90% of New South Wales production and 40 per cent of Australia's black coal production.
The card holders are typically located one of each side diagonally opposite and are designed to be opened and have a waterproof paper that has maintenance information or defect notice or other important details that are relevant to the rail staff that are working on the wagon.

Example specifications for a 2 pack (pair) of coal wagons where card holders are used:
Manufacturer: Bradken Rail Australia
Tare Weight: 43.4T
Gross Weight: 200.0T
Load Capacity: 156.6T
Maximum Speed: 100km/h
Drawbar Capacity: 2.45MN
Unit Length: 32.3m
Wheel Gauge: 1,435mm
The coal, once mined, is stored either at a railway siding located at the mine or at a coal loading facility (used by several mines). The coal is then transported to the Port of Newcastle, almost exclusively by rail.
It is important to ensure that each coal wagon has the card holder on each side for quick visual identification card by the maintenance staff and engineers who are responsible for the safe transport of coal from the Hunter Valley and other mines.

There are a myriad of details, people, processes and handling operations that comprise the supply chain and the G & J Machining coal wagon destination id card holders are but one small yet necessary part.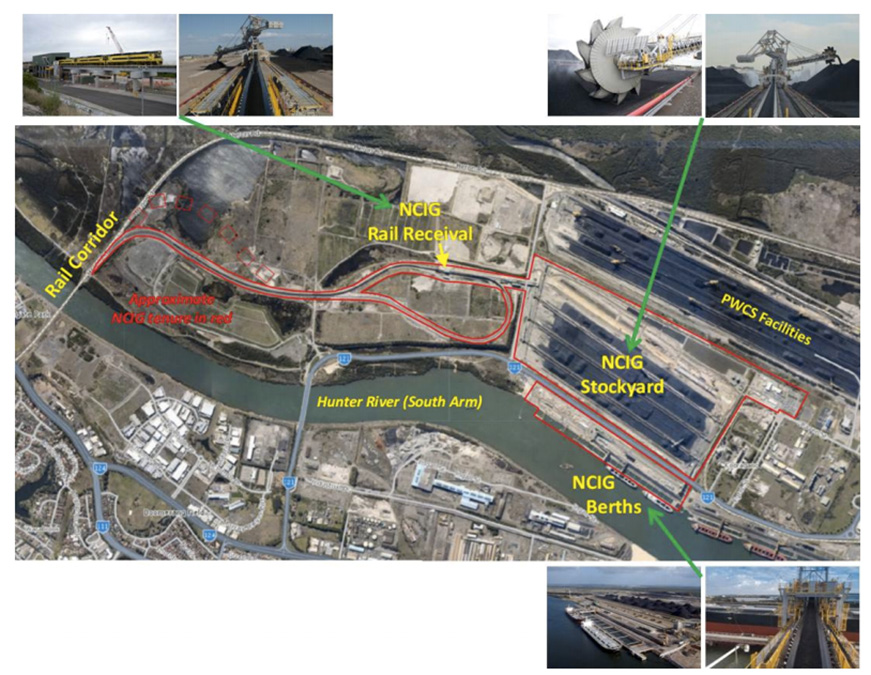 As the coal trains arrive from the various NSW coal fields the coal trains enter the Kooragang Island main rail line. The trains travel along the rail arrival sidings and empty their coal wagons into one of the two train unloading stations. Empty trains continue around the rail loops in a clockwise direction and then rejoin the Kooragang Island main rail line for the return trip.

Coal mining in the Hunter Valley region is supported by a significant array of related mining services from exploration services in the nature of geological and drilling services, to equipment provision services, mining safety services and mining technology services. G & J Machining has a long and proud association with the Hunter Valley coal industry as a niche supplier of coal wagon card holders and looks forward to many more years of service.
For orders and enquiries please call Gary on 0417 209 068 or email gandjmach@bigpond.com.au